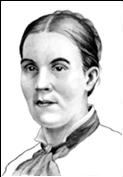 Catharine Littlefield Greene
Catharine Greene Awardees: CATGREENEMAY21 (updated MAY 2021)
The Catharine Greene award was approved by the Quartermaster General in January 2001 to provide an award that would recognize significant contributions and support provided by Quartermaster spouses. Any member of the Quartermaster corps may nominate a deserving candidate for the Catharine Greene Award. Although any member of the Quartermaster Corps may nominate a spouse, the nominating of your own spouse is highly discouraged and approving officials should carefully screen such nomination requests.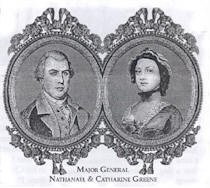 Catharine Greene, the wife of Major General Nathaniel Greene, (the third Quartermaster General), was a quiet heroine of the American Revolutionary War. Not content to sit on the sidelines while history was being made, Catharine Greene made every attempt to join her husband at various camps throughout the war. She was present at the winter camp of the Continental Army after the battle of Bunker Hill while pregnant with the Greene's first child. She felt the ground shake as a British shell exploded outside her cabin as she held her baby. She suffered the hardships of the Army at Valley Forge in 1778 and served as a makeshift translator among the French and American Officers. So profound was her impact on morale that General George Washington personally invited her to the Army's encampment the next winter. At times she voluntarily turned her home into a temporary hospital where she helped care for the sick and wounded and a headquarters while her husband was the Quartermaster General. She performed that most difficult of duties by visiting the next of kin when soldiers were killed. As if the challenges of war were not enough, during this same period Catharine Greene also had five children.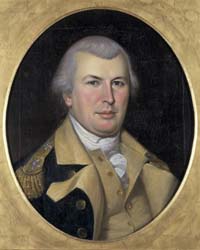 Catharine Greene was a courageous, devoted mother and spouse, who gracefully endured the war's many hardships. During that most trying time in our nation's history she gave untiring support to her husband, the Quartermaster Corps, and the Continental Army as we fought to establish freedom and our nation's independence.
MG Nathanael Greene was one of the most respected generals of the Revolutionary War and a talented military strategist. As commander of the Southern Department of the Continental army, his leadership was the catalyst that turned the tide toward American victory in Georgia.
In 1774, MG Greene married a fellow Rhode Islander, Catharine Littlefield, with whom he had six children. Catharine visited her husband often during the war and gained a reputation as an independent woman unusually interested in politics and the military.